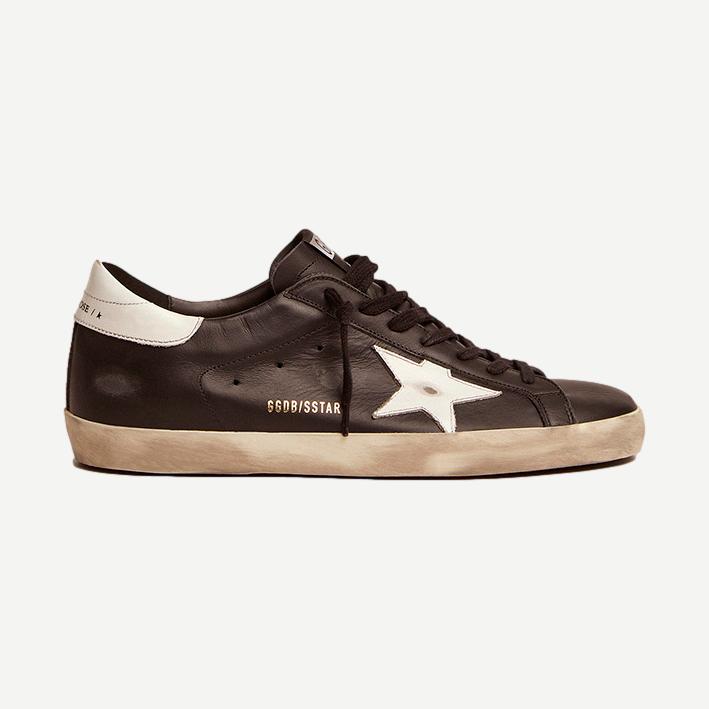 Super-Star Leather Upper Shiny Leather Star and Heel
Regular price
$408.99
$545.00
These Super-Star sneakers are the perfect example of the Golden Goose's identity: the distressed vintage look, their trademark, meets contemporary details. 
Fabrication: LEATHER UPPER SHINY LEATHER STAR AND HEEL, 
Materials: UPPER: 100% COW LEATHER, LINING: 49% COW LEATHER, LINING: 41% COTTON, LINING: 5% POLYURETHANE TEXTILE, LINING: 5% NYLON, SOLE: 100% RUBBER

Made in Italy

* Fit Guide: This item runs true to size. However, because this piece only runs in whole sizes. If you are a half size, size up! Ex. size 7.5 size up to 38. 
| | | | | | | | | | |
| --- | --- | --- | --- | --- | --- | --- | --- | --- | --- |
| SIZE | 39 | 40 | 41 | 42 | 43 | 44 | 45 | 46 | 47 |
| UK SIZE | 5 | 6 | 7 | 8 | 9 | 10 | 11 | 12 | 13 |
| US SIZE | 6 | 7 | 8 | 9 | 10 | 11 | 12 | 13 | 14 |
| JP SIZE | 25.3 | 25.8 | 26.5 | 27.2 | 27.8 | 28.5 | 29.2 | 29.9 | 30.5 |
| KR SIZE | 253 | 258 | 265 | 272 | 278 | 285 | 292 | 299 | 305 |
| DISTANCE HEEL TOE (cm) | 25.3 | 25.8 | 26.5 | 27.2 | 27.8 | 28.5 | 29.2 | 29.9 | 30.5 |